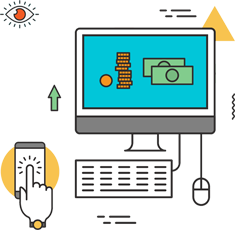 Premium Digital Marketing
Let us work with your business to best allocate your advertising budget!
Interacting with current and potential customers has changed dramatically since social media entered our lives. More recently, the most effective opportunities to advertise to those groups has moved onto social media platforms, as well. Your next customer will probably find you- or a similar business- somewhere online. With our help, they'll be calling on you and not your competitor.
In addition to receiving the benefits of social media management and monitoring, our premium digital management service allows you to maximize the power of the World Wide Web. We can help you find customers, reach customers and bring back customers by creating the right channels of communication for your business- and managing your advertising dollars month to month in a way that creates the best return.
We'll work as an extension of your business, helping you strategize and compete in a digital marketplace full of opportunity. Set up an appointment today to see where our passion for your business can be used to take you to the next level.